st. patty's day logo

Design | Photography | Layout

In my career I feel like I'm really starting to grasp graphic design concepts and Illustration technique. I can see improvement in my art and I feel like I'm growing. At Old Time Sports every year, for the past 5 years we've had a new Leprechaun logo to go along with our St. Patties day clothing line. My Job has been to design that logo. I've had a lot of fun doing it and it's always a challenge but logo design is the part of my career I would like to make big improvements. In my opinion logo design is extremely difficult and is the biggest hurdle in my career thus far.
Powered by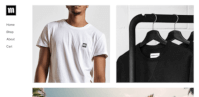 Create your own unique website with customizable templates.