MONA LISA SIMPSON

Mona Lisa Reimagined

This was one of my favorite illustrations and it comes with a cool anecdote. The idea came from the collaborative minds of my two buddies Mike and Cam. I asked for their help in hopes to win a Simpson's t-shirt contest. Unfortunately I didn't win but on the bright side I came out with a cool piece for my portfolio. Almost a year later I was contacted out of the blue by an artist named Erik Maell. He was putting together a book for art inspired by the Mona Lisa and came across my "Mona Lisa Simpson." He asked for my permission to publish it in his book and I obviously said yes. It just goes to show you always put 100% into your artwork. You never know who's going to be moved by your art.
Powered by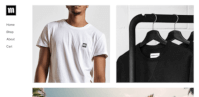 Create your own unique website with customizable templates.