ILLUSTRATION

Digital | Composition | Logo Design

I graduated from the University of Massachusetts Dartmouth with a bachelors in Illustration. Recently I've been focusing more on graphic design and typography, but I would like to spend some more time on Illustration again. I've had a few unique opportunities and while uploading them to the website I was reminded of how challenging and rewarding they were.

Powered by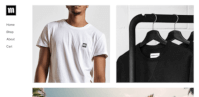 Create your own unique website with customizable templates.