DESIGN

Typography | Photography | Layout

You could say I fell into a graphic designer position. My original intention was becoming a full time Illustrator. Old Time Hockey took a shot on me because I was fluent with photoshop, and they needed an entry level artist to output film separations for screen printing. I'm very grateful they did take that chance because I look at graphic design is slowly becoming my passion. It's this whole new world I never really knew existed. I don't think I've bought a product in the past 5 years without critiquing it's design.

Powered by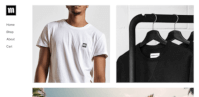 Create your own unique website with customizable templates.